Events as a growth strategy.
When most of the people spend time looking on blockchain, fin tech, AI and another tech trends, no one is looking at this one…
Events.
Almost $1 billion were spent last year in the events industry (corporate events and meetings) according to San Francisco Travel Association.
This $1billion in revenue represented more than new 76,520 jobs, and annual payroll of $2,3 billion.
Now make yourself this question.
" What are your business goals for the rest of the year?
Would you like more leads? Position your company as leaders in your market? Retain top customers and talent?
Events are wonderfully flexible and can accommodate all kinds of different business goals, so we're going to take a look at how they can help support five of the most popular objectives here and grow your business." by Eventbrite.
With this, you must understand, that the world is moving fast, but the real connections and long term relationships are being built in events.
And probably you're thinking that doesn't apply to your industry.
I'm sorry, but let me tell you, that you're wrong!
Even if you represent a science research group from University, if you want to present your latest discovery you will want to create an event.
So, in this article we will teach you why, how and what you've to do to use Events as Growth Strategy.
First and foremost,
#Generate Leads.
When organizing events or going to events you will generate automatically leads for your business. You will build connections and, as soon as you start networking and talking with people, you will find that person can help you and probably have potential partners that can introduce to you to grow your business.
You must consider that if you're going to organize an event an event or attending one to generate leads, you have to go with your sales team, do a list of prospects that you want to target.
We recommend also to create a list of sign-up questions, to send everyone that is buying tickets or downloading from Eventbrite or Meetup.com.
In that way, you will understand who is the audience in front of you and what you can expect.
Youcanevent team recommend you to use Google Forms. Sound obvious but stills being the most intuitive and easy to use with your audience.
Youcan always send them by e-mail or generate a webpage for your attendees.
On top of that, other key fact, is communication. You can't have registrations and not following up with regular communication for your event.
Important Details to Communicate
Communicating the following information, in this order, will help to prevent unpleasant surprises for both your team as well as the attendees:
Speakers'/hosts' names: Since your speakers and hosts are a huge part of what draws attendees to your event, you'll want to start introducing speakers early on in your event communications. Include on your speakers might be keynote titles, photos, and brief introductory bios. You can also consider sharing their presentation slides or any necessary handouts.
Event agenda and activity: Attendees will need to know the event agenda ahead of time to plan their event activities and make the most of the day, which is especially important in a conference with multiple sessions.
Communication channels & necessary downloads: You need to decide the communication channels to use to update your attendees and engage them from the ticketing moment. It can be an event app, social media, event website or emails. By considering your attendees demographics, select effective ones and let attendees know how to access them. If you organize business events, using a mobile event app is a trend nowadays. For example, the Whova app is a great tool for communicating important information such as agenda, directions and logistics, sponsors, slides, surveys/polling, etc., as well as social media outlets.
Music/DJ: Your Emcee and DJ set the tone for your event. Help people get acquainted with them beforehand.
Food and drinks, at least one week out: This is helpful so that people know whether they need to eat beforehand or bring food, especially if they have a food allergy.
Dress attire: Make sure all participants know how to dress for your event. Business casual or flip-flop friendly?
Weather: Outdoor events, transportation and even attire can depend heavily on this crucial detail. You likely won't know this information until less than one week out.
Closing the Generate Leads subject, you should consider (really consider), charge a minimum ammount for the ticket price.
Otherwise you should expect an average of 50% dropdown of attendees number.
You'd be surprised how even a small financial commitment will encourage people to turn up (and it reduces your expenses too!)
#Branding
For Youcanevent team, this is the most important aspect on everything that you do in the events industry.
The way that you communicate, generate leads, engage with people will resonate on your brand.
All the customers using Youcanevent.com as a tool to plan events better and comfortably is based on a brand guidance that the ultimate value is to create an unforgettable event experience.
Events are a brilliant way for any business to reinforce or create a brand message.
There's a reason why fashion and lifestyle brands are huge proponents of launch parties and similar events that speak to the value of their brand or product.
There is no reason why your business can't use them to the same affect. Here are a few ideas for how to use different events to convey different types of messages:
If you're a B2B company and want to convey your credentials as thought leaders in your industry, why not host a conference?
Gather experts together (ideally your clients and partners) and invite them to share their insights, intermixed with some of your executives, and you can create a really compelling content programme.
Just be sure to keep all the talks' on-topic and helpful to your industry, not sales pitches, otherwise the event could easily have the opposite one to what you've hoped for!
Events are also a great way to show people you know what you're doing.
Once again, the human touch, the looking in the eyes effect, are key to build long term relationships.
For example, if you work for a more creative industry, like an agency or a design firm, then you probably want to showcase your creativity, and what better what than throwing an awesome event?
The sky (and maybe your budget) is quite literally the limit when it comes to getting your creative juices flowing and putting on a truly unique experience for your guests that will leave them in no doubt as to your credentials by the time they leave.
If you work in sports, then you can host a sporting event or competition; youth oriented? Why not host a gig for up-and-coming artists? You get the picture — there's an event for pretty much any kind of expertise you want to display.
Other businesses may pride themselves on being well-connected, such as recruiters, estate agents and other sales or service related industries.
If this is your purpose, then of course it makes sense to gather all those big hitters you know into a room together, and then let your prospects mingle as you demonstrate your influence and reach, simply through the guest list.
Dinners, awards and conferences are all great events to help you achieve this objective.
You can watch in this event one of the latest events generated on Youcanevent.com by Pipedrive, to engage with their community.
#Teach your community
Teach how to do it. Educate your audience.
One of the key growth factors of one the biggest tech companies in the world, Salesforce, where you can read in the book "Behind the Cloud" by @Marc Benioff (Founder & CEO of Salesforce.com), was when they started organizing events for their first users and customers, getting feedback on how to build their a product they love.
For some companies, the essential goal of an event is to educate their audience.
It may be that you're at the vanguard of a brand-new technology or industry (like cloud computing a few years ago, or cryptocurrencies now), so you actually need to educate an entire market about the possibilities that your disruptive solutions offer.
If this is the case, then conferences, exhibitions, breakfast briefings, round tables and panel debates are all great events to host for this type of objective.
Often, the need to educate an audience will be more straightforward than the above scenario. For example you may need to educate your sales force on a new product update, resellers and agencies on a new solution you're bringing to market, or customers on how to use a new feature properly.
On Eventbrite Youcan also create live webinars to teach your attendees how to use your product.
Webinars, workshops and training sessions are all good ways to reach this goal.
#Long term relationships
You have to look at organizing an event as if it was your first date.
Everything must look impressive, astonishing, remarkable, unforgettable and all the beautiful feelings that you can create around that moment.
Events are key to build long term relationships. The smiles, the stories, the dances, the emotions changed with attendees are what makes possible create a thing that connects humans to each other, a Relationship.
Increase your retention rates, by recognizing key people and using the event as a way to say 'thank you.'
Whether it's staff, clients, partners or suppliers that you want to retain, events are a great way to extend a personal touch and make them feel special.
Dinners, parties, brainstorming sessions or days out at an attraction can all be great tools for keeping everyone engaged and happy.
Because of that Youcanevent.com created an amazing after-event experience. Every event organized on Youcanevent.com will have a videographer recording and saving that moment.
Schedule a free video call with one of the Youcanevent.com team members, and know how to do a Kick ass event for your customers.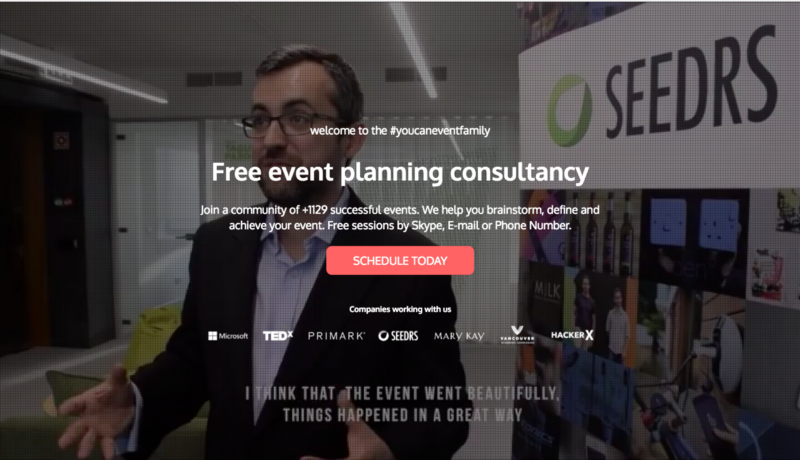 And following on this subject, of course…
#Content Marketing
'Content marketing' is a huge buzz phrase right now, and one reason is because it works. Online, everyone from consumers to businesses are reaching saturation point with banner ads and sales messages.
The only way to cut through the noise, earn your audience's attention and grow your business is by producing and sharing great content.
Events are perfect places for quickly building up a library of high-impact content that you can use in your on-going marketing strategy. For example you can:
Grab customer testimonials
Video your speakers
Survey attendees and use the data to create a unique report
Create a beautiful time-lapse video
Put together a montage that captures the fun and enjoyment of your event
Livestream it to an international audience
And much, much more!
All of these pieces of content can then become assets in your content marketing plan, and most can also be repurposed or split into even more assets, making the whole process very efficient and scalable.
Focus on the attendee success, focus on engaging with every single person, and you can count with our help to support you.
Youcanevent.com is an online marketplace for brands, business, companies book vendors and event planners when organizing an event.
Our job is to turn easy all the event planning setup, and have you focused in creating a remarkable event.
The bored work of handling the budget negotiation, booking the right vendors, finding the latest trends and have access to a wide network of experienced event planners to support you, we have that ready for you.
As a gift, don't forget to avoid these 5 mistakes to avoid when planning an event.
Now let's understand the How.
After this you understood what is the importance of organizing an event for your business.
Now you will understand how to make it properly and what you have to do to avoid things like FyreFestival Catastrophe.
When you want to organize an event, the first 2 things you want to consider are:
The vendors that you need (venue, caterers, entertainers)
The budget
Currently, how do you solve that problem?
Probably you ask for some recommendations on your network?
You send some e-mails to a bunch of vendors of event agencies?
You google it?
But, in the end of the day, you always have the feeling that something is missing, and the event is not what you expected.
Let us show you the tool designed by event planners for event planners.
Youcanevent.com is an online marketplace for businesses book vendors and event planners when organizing an event.
But #how can you benefit from a tool like this?
First, send your event request.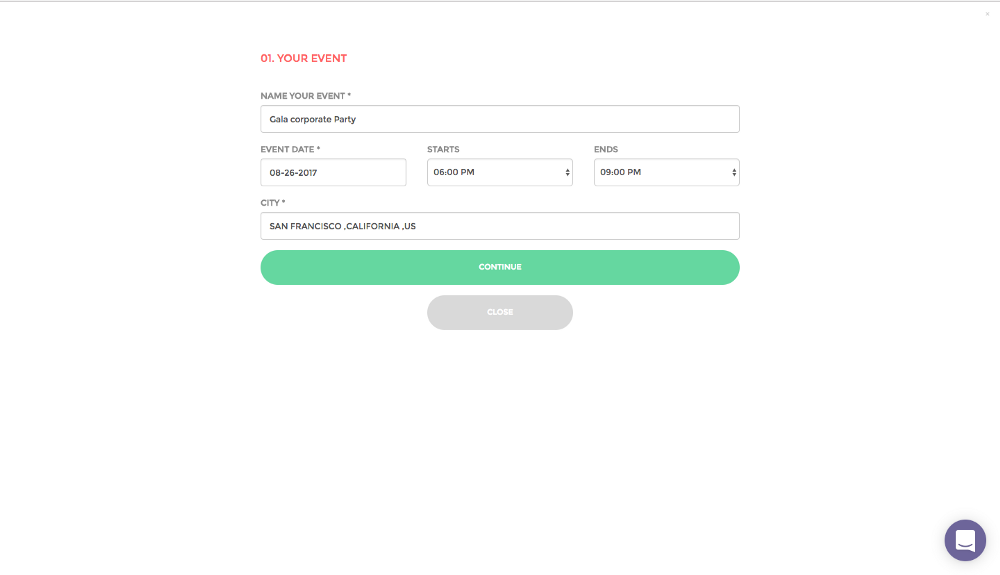 Be as much detailed as Youcan. This 60 sec form, gives all the information needed for vendors starting making bids for your request.
Mention the vendors that you need for your event, and give a brief description saying the number of attendees expected, budget, and overview of you want to do.
Listen. We know that probably you don't have a clear idea of how many attendees do you expect, or event the budget in place, and it's ok.
Our vendors community is ready to adapt their budget proposal at any moment, with quality guaranteed.
Although if you provide the info sooner, the event will be properly planned, according to quality standards.
Also, the importance of referring the date, location, gives you the ability to see upfront coming events, to avoid conflicts with other events in the future.
Also, after creating the event you will have an overview of the event, with detailed informations such as the weather, last proposal received, and Youcan always look at your event request and change it if you need it.
After that Youcan comfortably move to the Event management panel, where you can chat directly with the vendors one to one, and negotiate the budgets.
And yes, the easiness of speaking with hundreds of vendors, getting multiple options it's possible.
With clean User Interaction, and pleasant environment Youcanevent.com, works as the perfect habitat, for businesses find their event needs, talk directly with event vendors and planners, and get the best prices with high quality.
When you and the vendor get into an agreement, start planning the payment milestones.
In this article Youcan understand the Importance of Planning the Event Budget Ahead of Time.
Forecasting the costs of your event is key, and that turns easy on Youcanevent.com
As mentioned in the picture above, when you and the vendor get into an agreement feel free to accept the bid price. You don't have to do that unless you're 100% satisfied and confidant about the price and service proposed.
Youcan always talk to one of our team members reaching out to us at [email protected] or +1 628 227 4334.
Youcanevent.com also provides a liability insurance for every type of event incidents.
Weather
Damages
Host liquor
Retail Liquor
Meeting Insurance
Vendors Insurance
And so on…
In the end the payment process, is one of the most comfortable and disruptive approaches in the industry.
Our vendors community loves this feature, because saves them a lot of time and ensures that everything gets paid on time.
The vendor or event planner easily creates the milestone that can be defined when dealing with customer.
Usually a vendor sets a milestone for 3 parts.
Before the event, in the day of the event, and after the event.
This is one of the behaviors that Youcanevent customers found attractive. Planning budgets ahead of time with the clear idea of what you should expect to pay.
By this time that you're reading this (if you are using events as a growth strategy), your event will be a success and you will see a new way of organizing an event.
We don't finish here on HOW you should do your event.
Our Instagram account is dedicated 100% to our community.
Every week we give themes for event ideas. We want to empower you with the best event ideas, trends, activities and scenarios.
This week our theme was Game Of Thrones.
We show you how the north and the south comes together in an amazing Winter Celebration.
Hoping that you enjoyed all the content shared with you.
Youcanevent.com is a startup HeadQuartered in San Francisco, California and is empowering hundreds of businesses organizing events to grow their brands.
So far brands like Microsoft, Primark, Mary Kay, Pipedrive, HackerX and many more are using Youcanevent.com to plan their events.
If you'd like to meet us in person, or give some feedback about our platform, we would love to have you with us.
Our cause is to have humans celebrating life.
The World Wide Celebration brand.
Last month we did in partnership with Hard Rock cafe a surprising event for one of the biggest charity institutions in the world.
Join us at http://35.236.40.123 or if you know someone out there that is looking to create a celebration moment, youcan ;).
I can event,
We can event,
Youcanevent,
Thank you so much, see you next time.
Youcanevent team,
Antonio
"Life is a celebration and we are here to sing and dance with her",
Youcanevent, Inc.
San Francisco, CA, US.
Related
Antonio Trincao
Who knows Antonio, knows what is the special characteristic of him. Entertainment. A serial entrepreneur since 15 years old, working in the event and entertainment industry for almost 10 years. From catering services to bartending, night life clubs, summer club management, Antonio haves a deep knowledge of the events industry. Also, belongs to a non-profit organization called Azeituna (www.azeituna.pt), where we ran as a Shows Director along with his co-founder, for more than 5 years. Together they did shows in theaters all over the world, gathering almost 1,000,000 people. The most impressive accomplishment was a music performance done for more than 150,000 people as musicians on Azeituna, in one of the biggest European capitals, Lisbon. The way that he categorizes himself. " (...)If you want something that you never had, you've to do something that you never done.(...)' Musician, Sports Addict, Philanthropist, Organic & Healthy Foods, Design, 80's groove, Events and Entertainment passionate. Since February 2015, Antonio signed his mental and physical "commitment contract" to build the first wold wide events and entertainment brand called Youcanevent. Youcanevent, Inc. is a company headquartered in San Francisco, California, and has a remarkable growth from being a company self-funded by Antonio and his Co-founder Joao Raminhos, with brands working with Youcanevent.com like Microsoft, Primark, Mary Kay, Pipedrive and much more. The vision is to gather the world through the celebration, creating The World Wide Celebration brand. I can event, We can event, Youcanevent.
Related posts