Usually, on the internet, we read the best 10 this, the best 10 that, but today I will talk about the best caterer Green Box Catering.
Greenbox Catering was high-rated from our customers as the best catering service provider from the month of November, with one customer that booked 3 times the catering service.
But why GreenBox catering?
Because of their values and culture:
Locally Sourced & Organic
"We believe in sourcing the highest quality ingredients possible. Often that means organic & local ingredients from trusted farmers & purveyors."
Diet Democracy
"All salads are vegan and generally gluten-free. If there is cheese in a salad it comes in a side container. All ingredients are placed together so as to allow you to remove anything unwanted."
Unique Combinations
"Our unique combinations and indulgent meals are meant to make eating healthy fun, and exciting."
For everyone
"A guilty-free catering food, that your attendees will love. No more food restrictions when celebrating your company's holiday party."
As seen on CNBC showed that the biggest trends for 2017 were that consumers are looking to improve the maximum level their food habits and wellness.
"In fact, as consumers take more responsibility for their health food as medicine is becoming increasingly dynamic."
This idea of using food to manage health may, in part, help explain growing consumer interest in fresh, natural and organic products, with no exception in the events industry.
We all had that situation that one of the attendees wasn't comfortable with the food catered, for health reasons.
So now, please, next time that you order your catering service consider that you have to create an event that will be remarkable for all of your attendees, especially starting with an amazing food experience.
Greenbox Catering at one of Youcanevent.com services booked.
Now we know that Catering is not the only thing that you need when organizing an event right?
Watch the testimonial of William about his experience on providing catering experiences for the best events on Youcanevent.com
Also here's a sneak pick of how it looks the tasty food during a small networking event.
Once again, the best part of this catering, is that is totally "guilty-free" and you can eat as much as you want without any concern.
All the ingredients are organic, vegan and NON-GMO.
Enjoy!
So we will share some tips on how to plan your next event.
Every year, Forbes releases a new article that ranks the most stressful jobs the current year. In this year's edition, entitled, "The Most Stressful Jobs of 2017," there are typical jobs including armed forces, police, firefighters. However, the job that's ranked #5 may come to a surprise to you — event planners. Event planners have over a million things to worry about — whether that'd be organizing the event services, negotiating budgets, or ensuring all your vendors successfully deliver.
Our team, at Youcanevent, understands how difficult and stressful it is to find the best venue, catering, entertainment and everything else required in order to have a successful event. Luckily, our team has come up with a simple-to-use solution allowing you to easily plan and schedule your perfect event.
Youcanevent is an online marketplace for businesses to book vendors and event planners when organizing an event. We will find event services (venue, catering, photography, entertainment, multimedia, and much more) for you while working with your budget and number of attendees. Did I mention we can organize this for you in less than 24 hours?
It is imperative to initially consider a couple of factors when organizing an event
Type of required vendors (venue, caterers, entertainers)
Size of your budget
Youcanevent has designed a tool designed by event planners for event planners.
The first step is to send your event request via our online website. Simply provide us with basic information including the name of event, date, time, and location.
This is to ensure that your event does not conflict with other events at the same time and location.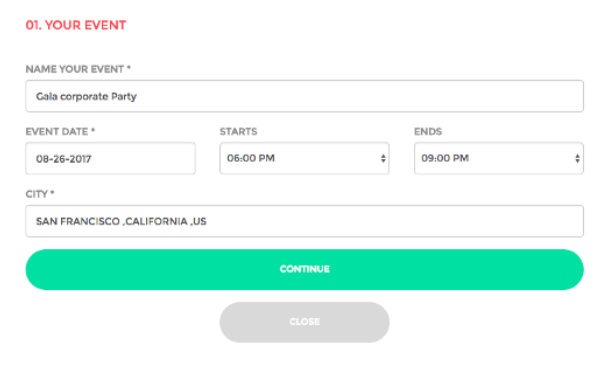 Next, select the required services needed for your event. For your convenience, we created popular service categories for you to select.
Also, don't forget to let us know the number of attendees, estimated budget, and a brief description of your event!
Hey, look — we know that you probably don't have an exact number of attendees you expect or a clear cut budget. It's okay.
Our vendors are able and ready to adapt their budget proposal depending on your requests.
After creating the event, you will be taken to an overview page. This contains important information including weather updates and details regarding your last proposal received.
Whether you want to check up on the status of the event, make some last minute tweaks, or simply check the weather update, this overview page will allow you to do so.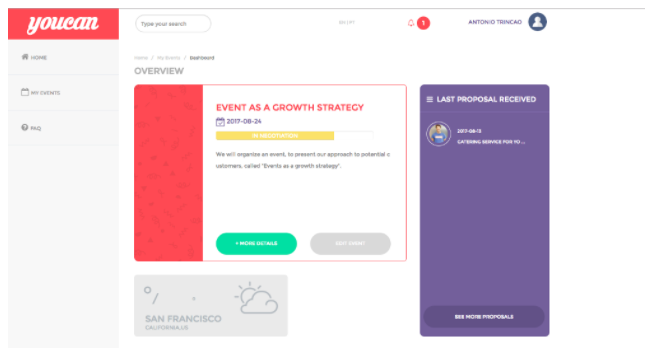 The Event Management panel allows you to chat directly with vendors one on one. Whether your looking for more detail on their services, have any questions, or want to negotiate budgets, this direct interaction feature will make this possible.
Once you and the vendor make an agreement, start planning the payment milestones.
There is no price commitment until you are 100% satisfied and on the same page with the vendor. Select your vendor with confidence and most importantly, stress-free.
If any questions or issues arise, feel free to reach out to one of our readily available team members at [email protected] or +1 628 227 4334. We are happy to assist.
Our team at Youcanevent strives to ensure a peace of mind. This is why we provide liability insurance for every type of event incidents.
Weather
Damages
Host Liquor
Retail Liquor
Meeting Insurance
Vendors Insurance
And the list goes on and on…
Hold on, it's not over yet — We've saved the best for last.
Our payment process is a fan favorite. Our Vendor Community enjoys this feature because it doesn't waste any time and ensures the right amount gets paid and on time.
Typically, the vendor sets up a 3 part milestone, meaning there are 3 parts of the payment process — before the event, the day of the event, and after the event.
Our clients find this very convenient as they are able to plan their budgets ahead of time with a clear idea of what they expect to pay.
On the client side, paying is as simple as entering a few numbers and making a few clicks. After filling out a few fields and making a couple clicks, your event is planned seamlessly.
For a more conservative approach, we recommend you to read this article on WikiHow.
Looking to organize an event?
Related
Antonio Trincao
Who knows Antonio, knows what is the special characteristic of him. Entertainment. A serial entrepreneur since 15 years old, working in the event and entertainment industry for almost 10 years. From catering services to bartending, night life clubs, summer club management, Antonio haves a deep knowledge of the events industry. Also, belongs to a non-profit organization called Azeituna (www.azeituna.pt), where we ran as a Shows Director along with his co-founder, for more than 5 years. Together they did shows in theaters all over the world, gathering almost 1,000,000 people. The most impressive accomplishment was a music performance done for more than 150,000 people as musicians on Azeituna, in one of the biggest European capitals, Lisbon. The way that he categorizes himself. " (...)If you want something that you never had, you've to do something that you never done.(...)' Musician, Sports Addict, Philanthropist, Organic & Healthy Foods, Design, 80's groove, Events and Entertainment passionate. Since February 2015, Antonio signed his mental and physical "commitment contract" to build the first wold wide events and entertainment brand called Youcanevent. Youcanevent, Inc. is a company headquartered in San Francisco, California, and has a remarkable growth from being a company self-funded by Antonio and his Co-founder Joao Raminhos, with brands working with Youcanevent.com like Microsoft, Primark, Mary Kay, Pipedrive and much more. The vision is to gather the world through the celebration, creating The World Wide Celebration brand. I can event, We can event, Youcanevent.
Related posts