Like everything in life, every story has her end.
The chapter in Honolulu was closed last week, after 3 months of an intense and amazing Accelerator Program on Blue Startups.
Now it's time to close the program with the Capstone week in San Francisco, with a Demo day showcase held at 500 Startups.
Last week started all speed.
I think that I've shared with you already that, one of the things that we care more on Youcanevent, Inc. is being surrounded by wise and experienced mentors.
Matt Johnston thank you so much for advising us and being supportive in this journey.
Through Matt's connections we had a morning meeting on Monday with CMO.LA discussing growth and investment strategy.
CMO.LA is one of the references of LA's entrepreneurship, and it helped several entrepreneurs and startups growing to SERIES A and SERIES B stages.
After this meeting we rap up to another one. This time with @Sports1Marketing a leading Marketing Agency for Sports Entertainment Industry founded by @DaveMeltzer and @WarrenMoon (Football Hall Of Fame inductee).
Working in our industry Sports1, brings to the table various opportunities and connections to grow our business.
Also Sports1 is opening an accelerator program in San Diego, to launch companies focusing on the Entertainment industry, so if anyone here is looking for this kind of opportunity feel free to reach me.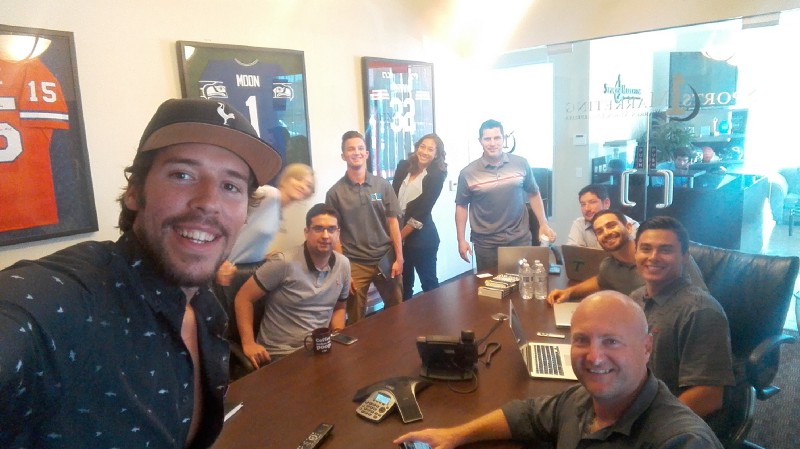 After this intensive day we had an amazing dinner with our Mentor's family.
Beautiful California sky… Good vibrations, great talks, all about entrepreneurship and dream big.
Is amazing when you're sharing your journey with a family that haves the same values, ambitions and believes in the project the same way you do…
Definitely an example for everyone that wants to have the best of the 2 worlds. Someone that wants to have a lovely family, cohesive and united.
(by the way thank you so much for the Dinner Miss Johnston was amazing)
Last morning breakfast with the gang.
After this first day in Los Angeles was time to meet another friend in Long Beach.
Time to meet Elaine Brackin. Elaine is an amazing song writer and singer.
Elaine is one of our Mentors as well, and gives us a lot of support in terms of logistics and traveling advising (now you're wondering what that means? xp is not supposed for you to understand, but I guarantee you that the help that she give to us, is really important).
With a little space to return to one my favorites spots in the world. Santa Monica & Venice, California.
In the night of course we had an amazing dinner, cooked by Elaine's boyfriend Remy Zambrota, where I learn how to do cook healthy pizzas with Ezekiel bread. Super cool!
Next day, Wednesday. Time to fly to the final destination. San Jose California.
But no… Flight canceled. Re-route to Oakland.
I don't know why but my journey here in the US this time, I don't have any lucky with flights. But yeah, in the end we made it.
Back to San Jose, back to my "mother of California" Olivia Martins.
Olivia hosted us already 2 years ago, when we came for the first time to the US US. This time is different we will stay longer with the objective of opening our HQ in the Bay.
Time to meet some old friends & mentors. Afonso was one of the very first person, that we reached out to get advising in the entrepreneurship world.
I think that was like in first month when we started our Journey in Feb 2015.
Now was time to meet him in the Valley, and see some spots around.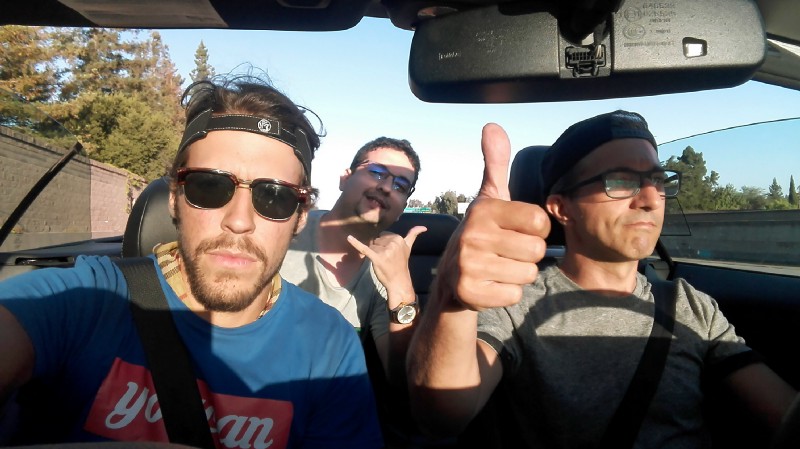 To close this amazing week, of course that we would have to go to an event, and learn more, improve more and grow more.
And what is the best group for that here in the bay?
San Francisco Badass Marketeers & Founders, featuring Kristina Wallender VP of Marketing Ticketfly/Pandora.
Amazing insights, especially sharing the importance of using your brand as a strategic advantage for marketing approaches and differentiation.
First week in Cali. Hello to Los Angeles, Some winks to San Francisco.
Next week all speed for the Blue Startups Cohort 9 Demo day in San Francisco.
Let's do it!!
I can event
We can event,
Youcanevent!
Antonio Trincao
Co-founder & CEO
Related
Antonio Trincao
Who knows Antonio, knows what is the special characteristic of him. Entertainment. A serial entrepreneur since 15 years old, working in the event and entertainment industry for almost 10 years. From catering services to bartending, night life clubs, summer club management, Antonio haves a deep knowledge of the events industry. Also, belongs to a non-profit organization called Azeituna (www.azeituna.pt), where we ran as a Shows Director along with his co-founder, for more than 5 years. Together they did shows in theaters all over the world, gathering almost 1,000,000 people. The most impressive accomplishment was a music performance done for more than 150,000 people as musicians on Azeituna, in one of the biggest European capitals, Lisbon. The way that he categorizes himself. " (...)If you want something that you never had, you've to do something that you never done.(...)' Musician, Sports Addict, Philanthropist, Organic & Healthy Foods, Design, 80's groove, Events and Entertainment passionate. Since February 2015, Antonio signed his mental and physical "commitment contract" to build the first wold wide events and entertainment brand called Youcanevent. Youcanevent, Inc. is a company headquartered in San Francisco, California, and has a remarkable growth from being a company self-funded by Antonio and his Co-founder Joao Raminhos, with brands working with Youcanevent.com like Microsoft, Primark, Mary Kay, Pipedrive and much more. The vision is to gather the world through the celebration, creating The World Wide Celebration brand. I can event, We can event, Youcanevent.
Related posts